TESTING & COMMISSIONING OF ELECTRICAL SYSTEMS
The purpose of electric system commissioning is to increase reliability of electrical power systems after installation by identifying problems and providing a set of baseline values for comparison with subsequent routine tests. Commissioning activities include 2 section; component testing and system testing.
The reliability of any system is dependent on the interconnection of the equipment and the equipment itself. Below items could be counted as a part of component testing
» Testing of HV/MV/LV Panels
» Testing of primary equipment
Current Transformers
Voltage Transformers
Surge Arrester
Circuit Breakers
» Testing of Power Transformers
» Testing of Protection Relay
PROTECTION
Protection is essential for network operators, electricity suppliers, and industrial enterprises in every sector. Protective relaying and power quality devices respectively. No matter if you need to protect transmission lines, transformers, motors, generators, substations or busbars, protection relays will always provide an optimized and efficient solution, which in association with power quality devices will provide you reliability and control beyond your expectations.
Protection cannot prevent faults, but minimize the consequences by:
» fast and selective tripping of the faulted system component
» automatic reclosing in case of transient faults
» providing information for fast fault analysis and system restoration in case of permanent faults
Fast means:
As fast as necessary, i. e. tripping of short-circuit within the critical fault clearing time (z. B. (100 ms in transmission networks) to minimize damage and to ensure system stability
Reliable means:
Reliable tripping in case of internal faults (high availability, no under-function)
Reliable non-tripping, in case of load or external faults (high security, no over-function)
Selective means:
Tripping of only faulty system components, leaving the healthy parts in service to continue energy supply
Transformer Protection
Transformers are valuable equipment which make a major contribution to the supply security of a power system. Optimum design of the transformer protection ensures that any faults that may occur are cleared quickly and possible consequential damage is minimized. The range of high-voltage transformers comprises small distribution system transformers (from100 kVA) up to large transformers of several hundred MVA. Differential protection offers fast, selective short-circuit protection, alone or as a supplement to Buchholz protection. It is part of the standard equipment in larger units from about 5 MVA.
Motor Protection
Drive motors often play a decisive role in the functioning of a production process. Motor damage and breakdowns not infrequently lead also to consequential damage and production shutdowns, the cost of which significantly exceeds the cost of repairing the motor. Optimum design of the motor protection ensures that damage following thermal overload is prevented, meaning that there is no reduction to the normal service life. Secondary faults are minimized in the event of short-circuits, earth faults and winding faults. Protection system design must be based on the rating of the motor, the importance of the drive for the technological process, the operating conditions and the requirements of the motor manufacturer.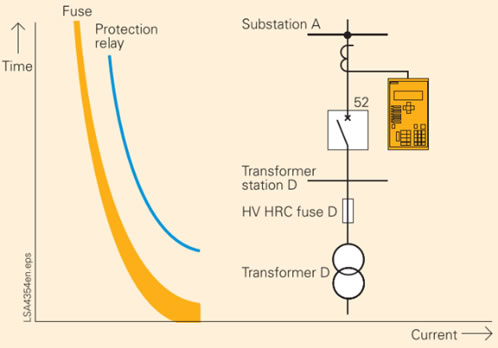 Feeder Protection
The duty of protection equipment is to allow overload currents that occur during operation, yet to prevent impermissible loading of lines and equipment. To avoid damages in the case of short-circuits the relevant equipment must be tripped in the shortest possible time. On the other hand, only as few feeders or loads as possible should be disconnected from supply.
Generator Protection & Synchronization
Electrical protection is essential for the reliable operation of such equipment. The scope of protection must be in proportion to the overall costs and importance of the plant. The scope and choice of protection functions are influenced by plant type, generator design and additional equipment, output level and power system connection. The following table gives an overview of the protection functions used depending on generator output.
Busbar Protection
Busbar faults are rare, they are considered most dangerous for people (staff) and the switchgear. Hence, fast tripping in case of busbar faults is essential.